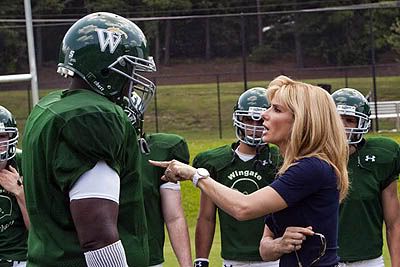 Question: When is a sports movie not about sports?



Answer: When the story behind the sports is as compelling as the life of Michael Oher, currently a starter in his rookie season with the Baltimore Ravens.





Based on the 2006 book of the same name by Michael Lewis, "The Blind Side" is an overwhelmingly sentimental movie. But thanks to earnest storytelling by director John Lee Hancock ("The Rookie") and a knockout performance by Sandra Bullock, its emotions are honest and earned

.



Life was hard for young Michael Oher, known for obvious reasons as "Big Mike." One of 13 children born to a drug-addicted mother, he grew up in Tennessee knowing nothing other than poverty, receiving little education and spending time both in foster homes and on his own

.



The movie meets up with Michael as a teenager, played by relative newcomer Quinton Aaron. A friend's father helps him enroll in Wingate Christian School, but given his background, he's hopelessly behind his classmates. Most of his teachers are ready to give up on him before giving him a chance

.



One cold night, well-to-do couple Sean (Tim McGraw) and Leigh Anne Tuohy (Bullock)—Sean owns dozens of fast food restaurants—spy Michael walking along the side of the road, dressed in a short-sleeved shirt and shorts. Placing an unusual amount of trust in a stranger, especially when they have a teenage daughter, Collins (Lily Collins), and young son, S.J. (Jae Head), the Tuohys offer Michael a place to stay for the night

.



The quiet, unassuming Michael quickly wins over the entire family, and that one night becomes many more. Before long, he has a room of his own and he calls Leigh Anne "Mama."





Football is a logical calling for a young man Michael's size, and with some helpful coaching by Leigh Anne, he's soon starring at the crucial position of left tackle, protecting the quarterback's blind side when he drops back to pass. College coaches, including Nick Saban, Lou Holtz and others all playing themselves, soon come recruiting, scholarship offers quickly on the table. The Tuohys hire a tutor, Miss Sue (Kathy Bates), to help Michael get the grades he needs to get into college

.



Hancock avoids the melodramatic flourishes that often accompany this kind of material. There's no need to insert conflict with the Tuohy children, both of whom accept Michael as an older brother, or Michael's classmates. This is the story of Michael and Leigh Anne, so the emphasis is on his integration into the family, the teachers who doubt his ability to make the grades he needs, an NCAA investigator suspicious of Michael's choice of college to attend

.



This sort of story—especially with these actors—feels like it would direct itself. But it takes a steady hand to keep it from wallowing in schmaltz, and that's where Hancock excels

.



I have never met Michael Oher or read the book, but Aaron portrays him just as I've heard him described by sports writers and others—as a gentle giant in everyday life and a tenacious competitor on the football field. Though Michael says little, you can see more going on behind Aaron's eyes

.



Bullock does maybe the best work of her career as the strong, confident, fiery Leigh Anne. The achievement of her performance comes in balancing that with another side—tender, loving, maternal. It is an extraordinary circumstance, and Bullock—and McGraw, who does surprisingly good work himself—pulls us along and makes us believe Leigh Anne made the only choice a woman of her character could make

.



"The Blind Side" is an unabashed feel-good movie and one of the best of its kind in recent memory

.



Grade: A



(
Rated PG-13 for one scene involving brief violence, drug and sexual references. 128 minutes.)