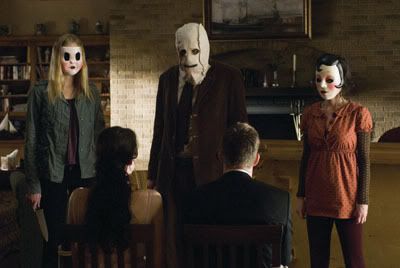 James Hoyt (Scott Speedman) had it all planned out: Attend a friend's wedding, propose to his girlfriend Kristen (Liv Tyler), spend a romantic night with her at his family's remote vacation home. He didn't plan for Kristen refusing his proposal, creating the ultimate awkward situation when they reach the old house for what he thought would be a celebration of their own.
The opening minutes are crucial to
The Strangers
, the debut from writer-director Bryan Bertino. The protagonists in most horror movies come in groups of vapid teenagers or random people thrown together for the first time. The history between James and Kristen gives
The Strangers
a lived-in feel that makes the terrifying events that unfold seem not so farfetched.
At about 4 a.m. there comes a knock at the front door. A girl (Gemma Ward) asks, "Is Tamara home?" No, James and Kristen reply. She is persistent. "Are you sure?"