For a little change of pace, let's take a look at one of the most anticipated albums, well, ever ...
GUNS N' ROSES
Chinese Democracy
(Geffen)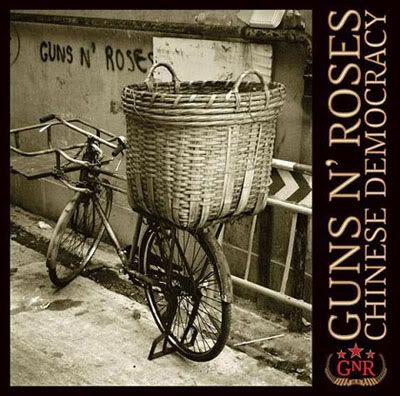 Apparently, it's been awfully noisy inside Axl Rose's head during the past decade and a half. And he's spent that time pouring all of the sounds rattling around his brain into the 14 songs that make up
Chinese Democracy
, possibly the most anticipated album in rock history. Spending millions, employing a small army of musicians, producers and other collaborators, and recording in more than a dozen studios, the disc sounds like Axl spent every day of the last 15 years working on it. It's almost too much to take in a single listen, with the entire recording threatening to explode into chaos at any given moment. There are layers upon layers of guitars (as many as six guitarists appear on a single song), bass, drums, percussion, keyboards, piano, strings, electronic loops, hip-hop beats, samples of
Cool Hand Luke
dialogue, even a few words from Dr. Martin Luther King Jr. And, of course, there are Axl's one-of-a-kind vocals. An inhuman shriek near the start of the album-opening title track lets us know his pipes are still intact. His familiar wail dominates most of the tracks, though he also throws in a meaner, edgier tone and an occasional falsetto. The vocals, too, are often layered, adding to the density of the recording.