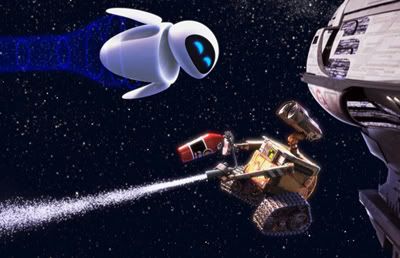 WALL•E
, the latest film from the wizards at Pixar, is pure movie magic, a rare picture of wonder, hope, joy, love and social conscience.
While most of its animated contemporaries are busy trying to be hip with pop culture references,
WALL•E
, written and directed by Pixar veteran Andrew Stanton (
Finding Nemo
), has more in common with classic silent films.
WALL•E, who speaks in beeps that form only an occasional word, is a direct descendant of Charlie Chaplin's "Tramp" character, possessed as he is of the same lovable, naive earnestness that made Chaplin such an enduring and endearing screen icon.