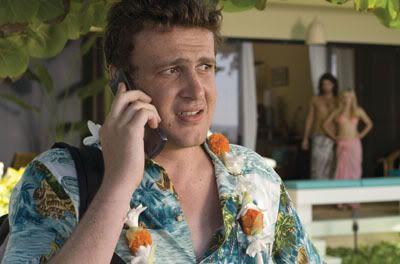 The Judd Apatow comedy factory has a new star: Jason Segel. You might know him from the sitcom
How I Met Your Mother
, a supporting role in Apatow's
Knocked Up
or Apatow's short-lived, yet critically-acclaimed TV series
Freaks and Geeks
. He now gets his close-up as writer and star of the Apatow Company's latest instant classic,
Forgetting Sarah Marshall
.
Segel is Peter Bretter, a musician who pays the bills by composing the dark, ominous music of the hit TV show
Crime Scene: Scene of the Crime
. His real ambition is to complete his rock opera, which involves puppets and a horror classic. The star of
Crime Scene
(co-starring with William Baldwin—yeah, that's right) is the luminous Sarah Marshall (Kristen Bell), Peter's girlfriend of five and a half years. They seem an odd fit. Peter spends most of his days lounging around his apartment in sweat pants, eating cereal and watching
Access Hollywood
. Sarah often makes the headlines on
Access Hollywood
. When Sarah poses for photos on the red carpet, Peter is the guy standing in the background holding her purse.