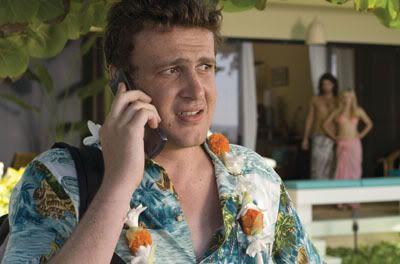 The Judd Apatow comedy factory has a new star: Jason Segel. You might know him from the sitcom
How I Met Your Mother
, a supporting role in Apatow's
Knocked Up
or Apatow's short-lived, yet critically-acclaimed TV series
Freaks and Geeks
. He now gets his close-up as writer and star of the Apatow Company's latest instant classic,
Forgetting Sarah Marshall
.
Segel is Peter Bretter, a musician who pays the bills by composing the dark, ominous music of the hit TV show
Crime Scene: Scene of the Crime
. His real ambition is to complete his rock opera, which involves puppets and a horror classic. The star of
Crime Scene
(co-starring with William Baldwin—yeah, that's right) is the luminous Sarah Marshall (Kristen Bell), Peter's girlfriend of five and a half years. They seem an odd fit. Peter spends most of his days lounging around his apartment in sweat pants, eating cereal and watching
Access Hollywood
. Sarah often makes the headlines on
Access Hollywood
. When Sarah poses for photos on the red carpet, Peter is the guy standing in the background holding her purse.
Nevertheless, Peter is madly in love with her, even after she dumps him for the vacuous British rock star Aldous Snow (a scene-stealing Russell Brand). To dig out of the deep, dark depression that follows, Peter leaves L.A. for a Hawaiian vacation. But—wouldn't you know it—Sarah and her new boyfriend happen to be staying at the same resort as Peter, and they encounter each other in all sorts of painfully funny situations throughout the next few days. But it isn't all bad for Peter. He also meets Rachel (Mila Kunis), the friendly hotel clerk who just might be perfect for him.
The comedy is of the same brand as
The 40-Year-Old Virgin
,
Knocked Up
and
Superbad
. In other words, it's raunchy and it earns its R rating. But there also is a ring of truth to Peter's hopeless pining and a romantic heart beating at the movie's center.
As the head honcho of a growing empire, Apatow often overshadows the directors of the films from his production company. (Pop quiz: Name the director of
Superbad
.) For the record, Apatow has directed only two films,
The 40-Year-Old Virgin
and
Knocked Up
. Let's give the other guys some credit (Greg Mottola in the case of
Superbad
). The director of
Sarah Marshall
is Nicholas Stoller, a writer from Apatow's other, even-shorter-lived TV series
Undeclared
. The movie unfolds largely in episodic fashion with some asides that have little to do with the central story. Stoller keeps the wheels rolling, juggling the large group of eccentric characters without getting bogged down in the subplots.
Apatow regulars fill out much of the supporting cast: Bill Hader as Peter's step-brother; Jonah Hill as a waiter who has a comically creepy obsession with Aldous; and The Great Paul Rudd as a perpetually stoned surfing instructor. Seth Rogen is the only one missing. New faces include Jack McBrayer and Maria Thayer, as a honeymooning couple struggling to get to know each other physically, and the two leading ladies, both of whom rose to fame on television (Bell on
Veronica Mars
; Kunis on
That '70s Show
) and now are poised to become movie stars.
Bell has a difficult role, as we see Sarah through Peter's eyes, loving her one minute, hating her the next. Within that contrast, Bell finds something real and Sarah gradually emerges as neither of the extremes Peter sees. Bell also proves to be a good sport when her co-stars hilariously mock one of her earlier films. Kunis, meanwhile, is a revelation. Rachel, though she has some issues of her own, is funny, charming and gorgeous. If anyone could make you forget Sarah, it's her.
Segel is the typical Apatow leading man: a bit of a schlub, kind of a slacker, but a decent enough fellow. He is fearless in his performance, spending the first half of the movie bawling like a girl dumped by her first crush and letting it all hang out—literally in a pair of nude scenes. Hey, no one said comedy is pretty and you should know by now that it never is when it comes to Apatow. But it's always sincere and no filmmaker gets laughs more consistently.
Sarah Marshall
is, in a word, unforgettable.
GRADE: A
(Rated R for sexual content, language and some graphic nudity. 112 minutes.)