For a little change of pace, let's take a look at one of the most anticipated albums, well, ever ...
GUNS N' ROSES
Chinese Democracy
(Geffen)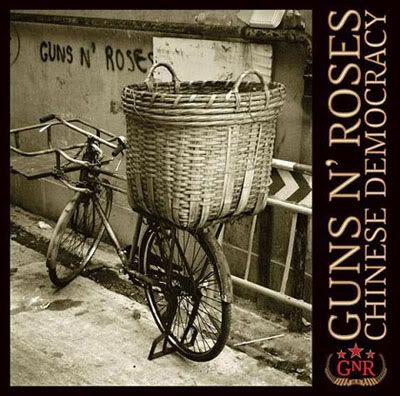 Apparently, it's been awfully noisy inside Axl Rose's head during the past decade and a half. And he's spent that time pouring all of the sounds rattling around his brain into the 14 songs that make up
Chinese Democracy
, possibly the most anticipated album in rock history. Spending millions, employing a small army of musicians, producers and other collaborators, and recording in more than a dozen studios, the disc sounds like Axl spent every day of the last 15 years working on it. It's almost too much to take in a single listen, with the entire recording threatening to explode into chaos at any given moment. There are layers upon layers of guitars (as many as six guitarists appear on a single song), bass, drums, percussion, keyboards, piano, strings, electronic loops, hip-hop beats, samples of
Cool Hand Luke
dialogue, even a few words from Dr. Martin Luther King Jr. And, of course, there are Axl's one-of-a-kind vocals. An inhuman shriek near the start of the album-opening title track lets us know his pipes are still intact. His familiar wail dominates most of the tracks, though he also throws in a meaner, edgier tone and an occasional falsetto. The vocals, too, are often layered, adding to the density of the recording.
This is all interesting, but the real question is, is
Chinese Democracy
any good? Well, yeah, as a matter of fact, it is. Quite good. Seventeen-year-wait, fire-and/or-drive-away-all-of-the-other-original-band-members good? Harder to say. Could anything reach that level, especially when we're talking about something released under the name of the band that recorded
Appetite for Destruction
, one of the greatest albums in the history of music?
The key to
Chinese Democracy
is to look at it as a different band (because it is; aside from Axl, only keyboardist Dizzy Reed remains from the early-'90s
Use Your Illusion
lineup). If you can get to that mindset, you might find this new pile of tunes almost brilliant and Axl a genius—a completely mad genius, but a genius nonetheless. Sure, the songs are ridiculously over-produced, but that's kind of the point, isn't it? You don't work on them for as long as Axl has and intend for them to come out sounding raw and spontaneous.
Three solid rockers kick off the album—"Chinese Democracy," "Shackler's Revenge" and "Better"—before Axl channels his inner Elton John/Freddie Mercury on "Street of Dreams." The lighter tone continues through the next three songs. Many reviewers have compared "If the World" to a James Bond theme, both in title and sound, and that's on the mark; it's certainly better than most of the recent Bond themes. The cinematic quality of this song extends to the entire album. It is as if what Axl has been trying to do all these years is to create something that is more than music. In the age of iPods,
Chinese Democracy
takes the listener on a journey that cannot be experienced by downloading and listening to a few songs individually. It's 70-plus minutes of grandiosity that few are pretentious enough to attempt and even fewer have the talent to reach.
Song No. 8, "Scraped," starts as if Axl has finally lost it completely before switching gears and turning into one of the albums better rock songs. It features Axl's oddest vocal moment (he creates an entire choir out of his own voice), that is, until you hear "Sorry" and the one line he delivers in some sort of Eastern European accent. He sounds like he's channeling Jason Segel performing his Dracula rock opera in
Forgetting Sarah Marshall
. It's bizarre even by his standards. "Riad N the Bedouins" is one of the album's angrier songs and is sure to get many fans wondering who the Bedouins are and what they did to draw Axl's ire. "I.R.S.," like most of the songs, has been floating around the Internet in various incarnations for a few years now and is one of the brightest of the bright spots. "Madagascar," which GNR debuted on the MTV Video Music Awards back in 2002, is an epic—complete with dirge-like horns—nearly of "Estranged" proportions, but almost four minutes shorter, it doesn't have time to lose itself along the way. It does, however, make room for the aforementioned King and
Cool Hand Luke
samples. "This I Love" finds Axl back behind the piano and features one of the best vocal performances of his career. "Prostitute" brings things to a close in a manner a little too low key for my liking.
Even with a scorecard, keeping track of which musician contributed what to which song is a losing proposition. The guitarists include the eccentric Buckethead, Bumblefoot and Nine Inch Nails' Robin Finck. As controlling as Axl is, it's a bit surprising how much he allows them and others to share the spotlight. The guitars are all over this album, with each solo seemingly more insane than the next. Though they may lack Slash's unmistakable bluesy feel, they make up for it with sheer speed and dexterity—a
Guitar Hero
aficionado's dream (or, possibly, nightmare).
As unusual an experience
Chinese Democracy
is for the listener, I can't imagine what's going through Axl's head as the music he has spent roughly a third of his life making is being picked apart in newspapers and magazines around the world, as well as every corner of the Internet. After so much work, how did he decide when it was done? How many more hours of music does he have stored away on his hard drives? What I would give for a portal into his brain, Malkovich-style. Axl Rose is an artist unlike any other we have in music today. You can hear his influences plainly, but he's molded and reshaped them into something wholly original. There's never been an album quite like
Chinese Democracy
. He better get back to work soon—the clock is ticking and 2025 will be here before you know it.
Grade: A