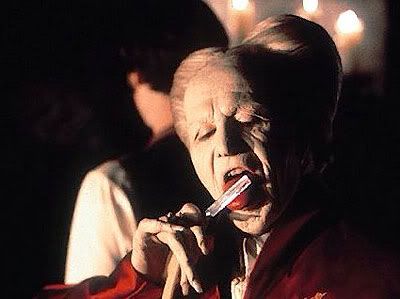 I was 13 in 1992 when I saw "Bram Stoker's Dracula," and it changed my life.
Francis Ford Coppola's take on the classic 1897 vampire novel might not be the definitive film version that its title suggests (another studio owned the rights to the simpler title "Dracula"), but it is a gorgeous motion picture, an immersive experience that presents the infamous count and his tale as never realized before.
Coppola, stinging from the critical and fan backlash against "The Godfather: Part III" (1990), originally intended his "Dracula" to be a small, low-budget film with the goal of winning him some measure of independence from the Hollywood studios. His ambition, though, could not be contained, and his little movie grew into a $40-million, centuries-spanning epic.
We meet the Romanian Prince Dracula (Gary Oldman) in 1462 as he wages a holy war against Muslim Turks. Returning from battle, he finds his wife, Elisabeta (Winona Ryder), has taken her own life after hearing false news of his death. Upon learning she will be damned for eternity as a suicide, Dracula curses God and vows to return from the grave to take revenge with the powers of darkness.
Fast-forward to 1897, when young law clerk Jonathan Harker (Keanu Reeves, who, despite a shaky British accent, is not nearly as bad as many would have you believe) travels to Transylvania to complete the mysterious Count Dracula's real estate acquisitions in London. The vampire spies a photo of Harker's fiancée, Mina (Ryder), his Elisabeta reincarnated.
Harker becomes a prisoner, tormented by Dracula's sadistic brides (Monica Bellucci, Michaela Bercu, Florina Kendrick), while the count travels to England. Once there, he preys on Mina's friend Lucy (Sadie Frost) and, now appearing as a dashing young nobleman, seduces Mina.
A group of vampire hunters, led by the wily Dr. Abraham Van Helsing (Anthony Hopkins), assembles and eventually chases Dracula back to his homeland.
Though the love story that serves as the connecting narrative thread is the invention of screenwriter James V. Hart, many specifics from Stoker's novel that most other adaptations butcher are included. This is the only film I know of that features the Western-style chase and shootout of the book's climax, as well as all three of Lucy's suitors—Dr. Jack Seward (Richard E. Grant), who runs the insane asylum that houses Dracula's servant, Renfield (Tom Waits); the Texan Quincey P. Morris (Bill Campbell); and the aristocrat Arthur Holmwood (Cary Elwes).
The movie won Oscars for costume design, art direction and sound effects editing (and should have won at least one more for music; Wojciech Kilar's score is unforgettable and multiple themes from it have been used in many movie trailers in the past 17 years), It's overflowing with the style, almost at the expense of narrative. But Coppola deftly walks that fine line. He Directs—with a capital "D"—every aspect of every frame. "Francis Ford Coppola's Dracula" would have been a more appropriate title.
The film was shot entirely on soundstages and—here's the part I love most—incorporates no computer effects. Coppola uses tricks that date to the silent era to create all the effects in-camera. This is movie magic as it was when the term was first used.
Reeves aside, the acting is stellar all the way around, highlighted by Oldman's unique take on one of the most iconic characters in film history; Hopkins as the manic Van Helsing; Ryder, who was only 19 at the time of filming; and the gravelly-voiced Waits as the tragic lunatic Renfield.
There is so much to take in that this movie demands—and rewards—multiple viewings. I couldn't get it out of my head when I first saw it, and I still revisit it often today.
For me, "Bram Stoker's Dracula" started a love affair with the movies that has no end in sight.
Grade: A
(Rated R for sexuality and horror violence. 128 minutes.)