The year drawing to a close has not been the most memorable one at the movies. The biggest blockbuster of 2009 was by far the worst movie I had the misfortune of seeing (Transformers: Revenge of the Fallen). But Hollywood also showed it still knows how to entertain on a level that only it can.
I have not yet had a chance to see many of the films making the rounds as awards season heats up (including The Hurt Locker, Precious, Up in the Air), so those will be considered as they expand into wide release or become available for home viewing.
Here are the best of what I have seen in 2009.
1. Avatar
James Cameron's first narrative film in 12 years tops nearly everything released during that period. People will talk about its technical achievements—and they are many and great— or some time, but they mean nothing without a story to fall back on. Avatar has a man who finds himself while wearing the body of another in an alien world, along with timeless themes of love and environmentalism. Sam Worthington and Zoe Saldana (who also appeared as Uhura in Star Trek) shine through the layers of special effects and are destined for stardom.
2. Star Trek
Lost creator J.J. Abrams reinvented the aging science fiction franchise in a big way with a movie filled with adventure, thrills and even laughs. From the opening scene, he draws the audience in and sets a pace that refuses to let you go. Along the way, he makes movie stars out of Chris Pine as Captain Kirk and Zachary Quinto as a Spock struggling mightily to find a balance between his human and Vulcan halves. With an appearance by Leonard Nimoy as the original Spock, Abrams's movie is respectful of Trek past while always looking toward the future.
3. The Hangover
Movies do not get much funnier. Bradley Cooper, Ed Helms and Zach Galifianakis—as unlikely a trio to a headline a nearly $300 million hit as ever assembled— tar as a trio of buddies who lose the groom (Justin Bartha) during a wild Las Vegas bachelor party, then spend the next day trying to piece together the night before. Galifianakis, one of the most creative standup comics working today, emerged as one of the year's breakout stars.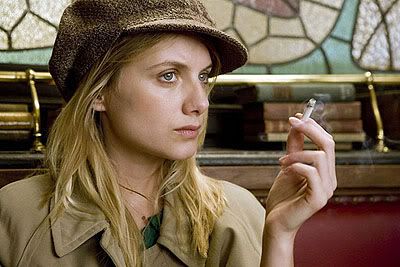 4. Inglourious Basterds
Quentin Tarantino let nothing stand in his way—not even history—in telling the tale of a group of Nazi-hunting Jewish soldiers (led by a hilarious Brad Pitt) and a vengeful Jewish woman (Melanie Laurent). There are promises of violence, but as in everything Tarantino does, dialogue dominates, each chapter unfolding as an interrogation, a prolonged battle of wits. The most formidable combatant is Christoph Waltz's sadistic yet engaging SS colonel known as "The Jew Hunter." Strangely, Basterds may be its auteur's most personal picture, playing out as a love letter to the movies.
5. Up
Pixar scored a huge hit over the summer. What else is new? Up packs more love, joy and sadness into its wordless montage of the life of Carl and Ellie Frederickson than most movies do into their entire running times. Its premise seems silly—a widower attaches helium balloons to his house to fly to South America—but in Pixar's hands it becomes profound, a film about aging and the grand adventure that is life.
6. Zombieland
The debut feature from director Ruben Fleischer doesn't feel like the kind of movie you expect to see on best-of-the-year lists, yet it's so entertaining it can't be left out. Woody Harrelson, who earned raves this year for his performance in The Messenger, is simply iconic as the Twinkie-loving zombie hunter Tallahassee, and one of the best cameos I have ever seen—I still won't give it away—nearly steals the entire movie.
7. The Blind Side
Go-for-broke sentimentalism powers the story of Michael Oher (Quinton Aaron), a homeless black teenager taken in by a well-to-do white couple, tutored and guided to becoming a star football player at the University of Mississippi and, currently, a rookie on the Baltimore Ravens. Sandra Bullock, in the best performance of her career, carries the day as Michael's fiercely protective adoptive mother.
8. Harry Potter and the Half-Blood Prince
The mood is darker than ever in year six at Hogwarts as Harry (Daniel Radcliffe) and Professor Dumbledore (Michael Gambon) delve into the dark past of the evil Lord Voldemort. Harry and his friends, meanwhile, deal with typical teenage issues of love and heartbreak. Director David Yates confidently performs a delicate balancing act, resulting in the best and most mature Harry Potter film to date.
9. Duplicity
Writer-director Tony Gilroy followed up his superb Michael Clayton with this finely crafted corporate caper. Clive Owen and Julia Roberts, in her first leading role in several years, play off each other with sizzling chemistry as competing spies, while Tom Wilkinson and Paul Giamatti are a hoot as rival CEOs.