EASTON, Md. — The first-ever Chesapeake Film Festival will open and close with premieres of major Hollywood films.
New Line Cinema's
Appaloosa
, a Western starring Ed Harris, Viggo Mortensen, Renee Zellweger and Jeremy Irons, will close the festival Sunday, Sept. 21, at the Avalon Theatre.
Directed by Harris and adapted from a Robert B. Parker novel by Harris and Robert Knott, the movie is set in the Old West territory of New Mexico and tells the story of two friends and lawmen (Harris and Mortensen) hired to police a dangerous town run by a ruthless rancher (Irons). A young widow (Zellweger) arrives and further complicates matters.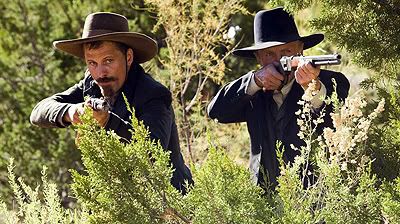 Viggo Mortensen, left, and Ed Harris in a scene from New Line Cinema's Appaloosa.
Knott, who also served as a producer and appears in the film, played one of the lead roles in
Swimmers
, a film shot locally by the festival's artistic director, Doug Sadler.
Sadler worked with Harris in 2002 at the Sundance Institute and, through him, met Knott. Sadler became friends with Knott and later cast him in
Swimmers
.
They have stayed in touch since then, often discussing their current projects. Sadler said he read a couple drafts of Knott's
Appaloosa
script and first broached the idea of bringing the movie to the Chesapeake Film Festival about a month ago. Knott approached Warner Bros., the film's distributor, which approved the request.
Knott, who spent several weeks in the area filming
Swimmers
in 2003 and returned for its May 2005 screenings at the Avalon, will attend the festival's closing night festivities. The screening starts at 7 p.m., with the "Festival Round-Up BBQ" preceding it at 5 p.m.
"We're excited to have it and have Robert coming," Sadler said. "We think it's going to be a fun way to end the festival."
Reached by phone Friday in Toronto, where
Appaloosa
was set to premiere at the Toronto International Film Festival, Knott said he is excited to return to the Eastern Shore.
"It's one of my favorite places on the planet," he said.
Knott said Harris, a longtime friend, picked up the novel
Appaloosa
, which is part of a Western trilogy by Parker, best known for the "Spenser" detective novels, while on a "horse-riding adventure in Ireland."
"He read a couple chapters and fell in love," Knott said.
Harris and Knott, who had been looking for a project to work on together for some time, both felt the novel was worth their time and energy, so they acquired the rights and went to work on the screenplay, Knott said.
Then came the "adventure of making the film," which can be arduous process, he said. But, filming in Santa Fe, N.M., and Austin, Texas, "we had a hell of a good time. I think we have a very fine film," Knott said.
Appaloosa
opens Sept. 19 in New York and Los Angeles, and Oct. 3 nationwide.
As previously announced, the Chesapeake Film Festival opens Friday, Sept. 19, with Universal Pictures'
Flash of Genius
, which tells the story of former Mid-Shore resident Robert Kearns and his long legal battle against the automakers he accused of stealing his invention, the intermittent windshield wiper.
Flash of Genius
also is premiering in Toronto before opening Oct. 3 in theaters nationwide.
Greg Kinnear stars as Kearns, while Lauren Graham splays his wife, Phyllis. The cast also includes Alan Alda and Dermot Mulroney.
Greg Kinnear stars in Universal Pictures' Flash of Genius.
Director Marc Abraham, who has produced such films as
Children of Men
,
The Hurricane
and
Air Force One
, will attend the screening, along with Kearns' son, Tim Kearns, who serves as an Oxford town commissioner.
Tim Kearns emphasized that the film is a work of fiction based on a true story, but "it's accurate enough to send chills up my spine whenever I see it."
"It's eerie. You're not allowed to see your life flash before your eyes until you die," he said with a laugh.
"It's a very well done movie," he added. "It begs the question of what would each of us do if we were dealt the same hand of fate."
"The film is very powerful," said Festival Director Marie U'Ren. "Watching the movie with Tim and having the opportunity to discuss his family's commitments and challenges was a lasting and memorable experience."
The opening night event begins at 6:30 p.m. Sept. 19 with a gala at the Tidewater Inn and the screening set for 8 p.m. at the Avalon Theatre. Tickets are $75 for the gala and preferred seating at the screening, and $25 for the movie only. Reservations are required.
In addition to opening and closing night, the festival will feature a full lineup of film screenings—including features, shorts, documentaries and classics—Saturday, Sept. 20, and Sunday, Sept. 21, at the Avalon, Academy Art Museum and Historical Society of Talbot County.
Also on the festival's slate:
Waiting for Hockney
, a documentary about Baltimore artist Billy Pappas;
I.O.U.S.A.
, a documentary about the federal debt and its effect on U.S. citizens;
Row Hard No Excuses
, a documentary about two men who enter a rowing race across the Atlantic Ocean;
In the Family
, a documentary about breast and ovarian cancer; and
Spine Tingler!: The William Castle Story
, a documentary on the horror filmmaker, along with a special screening of his 1959 film
The House on Haunted Hill
, with actors providing live effects.
Waiting for Hockney
follows Pappas through the nearly 10 years he spent working on a drawing of Marilyn Monroe, striving to create a level of detail deeper than photography. Pappas now lives in Choptank in Caroline County and did much of the work on the drawing locally.
The film premiered at the 2008 Tribeca Film Festival in New York City and played to sold-out audiences in May at the Maryland Film Festival.
I.O.U.S.A.
has been described as the
Inconvenient Truth
of debt, said Sadler, who attended the American Film Institute with the director, Patrick Creadon.
"It's a remarkable issue and a good film about it," Sadler said.
Filmmakers and subjects of the documentaries will attend the festival.
A full schedule and descriptions of the films are available online at
http://www.chesapeakefilmfestival.com/
.
Tickets are available for the entire festival (advance purchase required), packs of three films and individual screenings. For more information, visit the festival's Web site or call the Talbot County Office of Tourism at 410-770-8000.