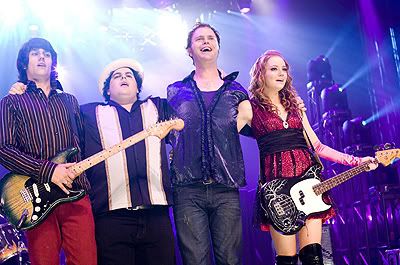 Take a helping of the Jack Black family-friendly, rock 'n' roll comedy
School of Rock
, a dose of the Mark Wahlberg rock 'n' roll fantasy
Rock Star
, a touch of
Almost Famous
, throw into the mix one of the funniest actors working in television today, and what do you get? A movie that is much less than the sum of its parts.
The biggest problem with
The Rocker
is that it simply does not rock. It begins in 1986 with Vesuvius, a clone of Poison and countless other "hair" metal bands, ready to take over the world. You can try to suspend your disbelief all you want, but nothing can hide the fact that this band is a joke and probably would have been considered such even when this type of thing was huge.
That is trouble because we are expected to believe that two decades later Vesuvius is still the biggest thing in music. That, in turn, is trouble for Robert "Fish" Fishman (Rainn Wilson, better known as Dwight Schrute on
The Office
), the band's original drummer. Vesuvius ditched him as a condition of signing its first recording contract, and he hasn't picked up a pair of sticks since.
His second chance comes when his teenage nephew Matt's (Josh Gad) band, A.D.D., suddenly finds itself without a drummer two days before they're scheduled to perform at the high school prom. Fish fills in and the show appears to be a success until he rips out a thunderous drum solo—in the middle of a slow dance.
A.D.D.—which includes singer-guitarist-songwriter Curtis (Teddy Geiger), bassist Amelia (Emma Stone) and keyboardist Matt—reluctantly gives Fish another chance and gets its big break when a video of him performing naked—"The Naked Drummer"—becomes a YouTube sensation. A recording contract and sold-out tour of the Midwest follow.
The Rocker
is sporadically funny but never picks up any comedic momentum. Wilson's devotion to being so unapologetically weird is a large part of what makes him entertaining on TV—he is a two-time Emmy nominee for his work on
The Office
. As a leading man, it works against him, especially when the director, Peter Cattaneo (
The Full Monty
), and screenwriters, Maya Forbes and Wallace Wolodarsky, struggle to find a consistent tone and pace. This is a movie that needs a strong lead, someone who can rise above mediocre material, to carry it on his shoulders. Wilson isn't ready for that, though he is likable in a goofy way.
Through a combination of writing and performance, the younger actors in the band have no chemistry. They don't seem like friends, nevermind the "family" they claim to be as a band. Geiger, in particular, struggles; his songwriting must have gotten the gig, not his acting chops (he penned the A.D.D. tunes).
A potential romantic subplot comes with the introduction of Kim (Christina Applegate), Curtis' mother. She seems interesting—she says she once was in an all-girl punk band—but the movie refuses to take advantage of that. Instead, it spends more time with Matt's overly protective mother (Jane Lynch) and overly supportive father (Jeff Garlin).
Highlights come from roles that are little more than cameos: Will Arnett as the preening lead singer of Vesuvius and Demetri Martin as a pretentious music video director.
But the movie cannot escape its fundamental flaw: A.D.D. doesn't rock. Not even close. Their songs mostly deal with Curtis' childhood abandonment issues—a sad situation, sure, but not something you want to hear about in song after song. No matter how much a movie tries to convince us, emo will never rock.
Grade: C-
(Rated PG-13 for drug and sexual references, nudity and language. 102 minutes.)