EASTON, Md. — More than a year in the making, the inaugural Chesapeake Film Festival has taken over Easton this weekend, starting Friday evening with a gala at the Tidewater Inn and a screening of Universal Pictures'
Flash of Genius
at the Avalon Theatre.
"Our mission is to entertain, educate, inspire, enrich," said Doug Sadler, the festival's artistic director.
"If you look at what we're offering and the people we're bringing in, I feel we have totally met our goal this year," he said.
The slate of films includes premieres of major Hollywood studio movies (in addition to Friday's
Flash of Genius
screening, New Line Cinema's Western
Appaloosa
starring Ed Harris and Viggo Mortensen closes the festival Sunday night); issue-driven documentaries such as
I.O.U.S.A.
, which examines the national debt, and
At the Death House Door
, which focuses on the death penalty; work of local residents, including
The White Pony
, written by Laura Ambler of Easton, and
Charlie Obert's Barn
, a documentary by Kurt Kolaja of Queen Anne's County; screenings of classics
The Best Man
(1964) starring Henry Fonda, followed by a political panel, and William Castle's
House on Haunted Hill
(1959) enhanced with live effects provided by ArtHouse Live; and more.
Guests have included filmmakers, subjects of the films and others.
"We've gotten very lucky this year," Sadler said. "There's no way to look at it other than that."
For
Flash of Genius
, the guests were director Marc Abraham, Tim Kearns and Bob Kearns Jr. The Kearns are the sons of Dr. Robert Kearns, inventor of the intermittent windshield wiper and the movie's main character.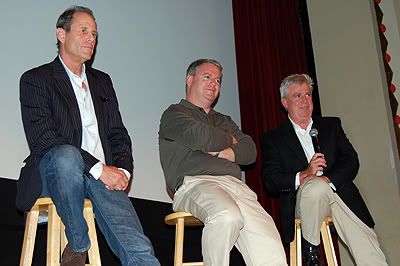 From left, director Marc Abraham, Bob Kearns Jr. and Tim Kearns participate in a Q&A Friday, Sept. 19, following a screening of
Flash of Genius
at the Chesapeake Film Festival in Easton, Md.
With Greg Kinnear as Dr. Kearns and Lauren Graham as his wife Phyllis, the film tells the story of Kearns' legal fight against the auto makers he accused of stealing his patents for the wipers. He eventually prevailed in court and won millions. He later moved to the Mid-Shore.
Tim Kearns lives in Oxford, where he serves as a town commissioner.
"I didn't realize he was so important in this area," Abraham said of Tim during a question-and-answer session following the screening. "I'm going to start treating him a little nicer in case I get a ticket on the way back to Baltimore."
Abraham, a longtime Hollywood producer making his directorial debut with
Flash of Genius
, thanked the festival committee for the invitation to the festival, which gave him the opportunity to catch up some of the Kearns family. "They've been so helpful throughout the film and so supportive."
Though Dr. Kearns died in 2005, before work on the movie began in earnest, Abraham said he had several conversations with him during the project's development. In their first talk, Dr. Kearns asked, "'How do I know you're not going to take this story and turn it into a story about how Ford and GM were the heroes?'" Abraham recalled. "I said, 'Well with all due respect, Bob, that's not much of a story.'"
The film is not about windshield wipers—or Ford, GM or any other car manufacturer—but a man's—and his family's—fight against injustice.
"The notion of what will this movie mean was a good topic conversation many times" among the family," Tim Kearns said. "My father was very proud that the movie would be made," even though he was paranoid that his story would be buried.
Bob Kearns said the family is appreciative of the manner in which Abraham told the story.
Abraham said he, Kinnear and the Kearns family all understood Dr. Kearns was not a saint.
"I believe that about all of us," the director said. "We all have our foibles, we all have our warts, we all have our sides of us that are not necessarily the most perfect sides and I felt that for a story to be true about (Dr. Kearns), we had to be able to portray those as well.
"I've always given credit to (the Kearns). They never ever didn't understand that. This is a family that was not about 'let's make a movie and make our dad just perfect.'"
Bob Kearns said Kinnear's performance "is dead-on. It's uncanny."
Prior to the screening, Hannah Byron, assistant secretary for tourism, film and the arts in Maryland, read a proclamation from Gov. Martin O'Malley naming Friday "Chesapeake Film Festival Day" in the state. She also recognized Debbi Dodson, Talbot County tourism director and one of the festival's organizers. "She really is one of the best tourism directors in the state of Maryland," Byron said.
Sen. Richard Colburn, R-37-Mid-Shore, read a Senate resolution, and Dels. Jeannie Haddaway, R-37B-Talbot, and Addie Eckardt, R-37B-Dorchester, presented a House resolution, both offering congratulations on the festival.
"This has been a year and a half of people dreaming about having a film festival, lots and lots of ideas," said Marie U'Ren, the festival's director. "We discovered that there are really a lot of people here who are connected to film and interested in film."
"The goal is to bring the community alive," said Sadler. "Film can do that by encouraging conversation and dialogue and by engaging all elements of a community."
For more information, visit the festival's Web site at www.chesapeakefilmfestival.com.