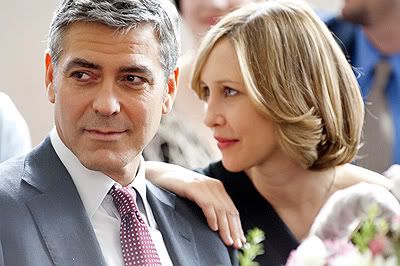 There is perhaps no film that represents the present better than
Up in the Air
.
A boss (Jason Bateman) gathers his employees and lays out the situation: It is a time of economic turmoil, the worst recession since the Great Depression, people are losing jobs at an alarming rate.
"This is our time," he says.
The company sends its employees across the country to do the dirty work--the firing--when other companies have to let workers go. One of its best is Ryan Bingham (George Clooney), a man who keeps an apartment but whose real home is airports and airplanes, hotel rooms and conference rooms. Where is he from? "Here," he answers from several thousand feet in the air.
There is truth in that, as he is approaching 10 million frequent flyer miles with American Airlines.
The necessities of travel that are annoyances to us-- packing, airport security, bad food at airport restaurants--are a comforting routine, an almost sacred ritual, to Ryan. He gives seminars on the "backpack of your life" and how to keep it from weighing you down. He's reached middle age without creating any attachments; he's a stranger even to his sisters. Same as his job, his life has been about pushing people away.
Two women enter Ryan's life: Alex (Vera Farmiga), a like-minded fellow traveler with whom he meets up for hotel room trysts when their schedules align, and Natalie (Anna Kendrick), a recent college graduate with a plan to take his profession off the road and online via Web chat.
Ryan and Alex achieve a sort of perfect happiness within the isolated world of their travels. No strings, no worries, just guilt-free fun.
Is Natalie, his protege, infecting him? She's something of an enigma, approaching her job with cold efficiency but the rest of her life with warmth, joy and enthusiasm. (After graduating at the top her class, she had her pick of jobs but moved to Nebraska to be with her boyfriend.)
Has a man who spends his days severing attachments made one of his own? With the impending end of his way of life, Ryan sees potential for something more with Alex after a weekend spent together in Wisconsin for his sister's wedding.
This movie has been marketed as a comedy, but that is a bit disingenuous. Though there is some humor, it is a drama about adults dealing with real-life situations that cannot be laughed away.
Clooney, Farmiga (
The Departed
) and Kendrick (
Twilight
) all received Golden Globe nominations, and I predict at least two will be in the running at the Oscars. They are not the kind of look-at-me performances that chase recognition (what we typically see from Sean Penn or Daniel Day-Lewis, for example). Instead, they are more understated, lived in, real.
Clooney has made it his specialty playing men who exude cool, confidence and competence on their own terms, but quickly find themselves in over their heads when taken out of their element. There is a definite "George Clooney character," but he has uncanny knack for subtly adapting that character to fit the needs of each movie. He would have fit in comfortably alongside the movie stars of old, the Cary Grants, the Jimmy Stewarts.
The supporting cast is filled with actors you would long to see more of if the leads were not so compelling, people like Jason Bateman, J.K. Simmons, Zach Galifianakis, Sam Elliott.
The director and co-writer (with Sheldon Turner, based on a novel by Walter Kirn) is Jason Reitman, and following
Thank You for Smoking
and
Juno
, this is his third superb film. He adds an extra layer of authenticity through the inclusion of interviews with people who recently had lost their jobs.
Though the mind-blowing spectacle of
Avatar
still tops my best-of-2009 list,
Up in the Air
is the first film I would place in the time capsule.
Grade: A
(Rated R for language and some sexual content. 108 minutes.)