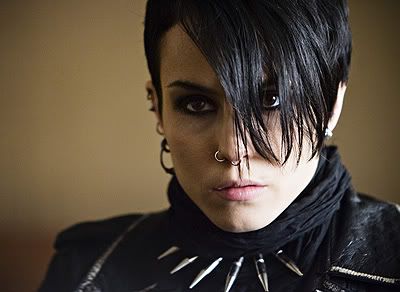 Like the novel on which the film is based, this review of
The Girl with the Dragon Tattoo
will be heavy on exposition.
The Girl with the Dragon Tattoo
is the first in Swedish author Stieg Larsson's internationally best-selling
Millennium
trilogy, all of which was published after his 2004 death.
All three films already have been made in Sweden and were released there and elsewhere last year. The first in the series--released under its original Swedish title or its literal English translation,
Men Who Hate Wome
n, in most other countries--did not wash up on these shores until March. It arrived here after becoming the highest-grossing European film of 2009 and the highest-grossing Swedish film of all time.
The Girl with the Dragon Tattoo
is the rare film that lives up to the hype preceding it.
Director Niels Arden Oplev and screenwriters Nikolaj Arcel and Rasmus Heisterberg have done a remarkable job streamlining Larsson's dense narrative without losing any crucial details or its dark, almost claustrophobic tone.
Noomi Rapace brings Larsson's words to vivid life as the titular character, the tattooed, pierced, antisocial, mentally unstable-- and brilliant--computer hacker Lisbeth Salander. Rapace has a magnetic presence that breaks down any language barrier--yes, the film is in Swedish, with English subtitles with ease.
Salander is a complex antihero, the kind of role American movies rarely provide for women and one of the most compelling characters to hit movie screens in recent years.
She comes to the aid of Mikael Blomkvist (Michael Nyqvist, excellent in an Everyman role), a financial journalist convicted of libeling a corrupt captain of industry, then hired to investigate the disappearance of a 16-year-old girl that occurred nearly 40 years earlier. It's a so-called "locked room" mystery, with an island standing in for the room and the suspects almost exclusively members of the girl's family.
Though foreign-language films rarely get much theatrical attention in the United States, "The Girl with the Dragon Tattoo" deserves a look. It is a superbly crafted thriller that, in Rapace, could herald the arrival of a major international movie star. (Films two,
The Girl Who Played with Fire
, and three,
The Girl Who Kicked a Hornet's Nest
, with Rapace and Nyqvist reprising their roles, will have U.S. releases later this year.)
At two and a half hours,
Dragon Tattoo
is a lot to take in, though it's plotted so well that the running time is not a hindrance but a plus.
The movie is not rated and has a handful of graphic scenes, including a brutal rape and Salander's retaliation.
An American remake is in the works, and it's off to a promising start with the attachment of David Fincher as director. Even he will be hard pressed, though, to top the original. The actress cast as Salander--Kristen Stewart and Carey Mulligan are reportedly interested--will have even bigger shoes to fill.
Greg's Grade: A
(Not rated. 152 minutes.)