There is so much to like about

Harry Potter and the Half-Blood Prince

, the best movie yet based on J.K. Rowling's insanely successful books.
Let's start with the title character and the actor who plays him, Daniel Radcliffe. For the first time, Radcliffe gets to loosen up and have a little fun, even as the tale grows darker than ever, a sense of dread hanging over Hogwarts as pervasive as the ever-present gray
clouds.
It's the first time "wooden" isn't the word that immediately springs to mind when thinking about Radcliffe's acting. A real chemistry has developed among him and his two principal co-stars, Rupert Grint and Emma Watson.
It's year six at the wizards' school, and teenage hormones are running wild, with Harry making eyes at Ginny Weasley (Bonnie Wright), who's dating a classmate, and Hermione (Watson) pining for Ron Weasley (Grint), who seemingly wants to snog every girl at school except for his sister and Hermione.


Grint has grown into a fine comedian and is a joy to watch, especially when Ron is stricken by a powerful love potion. Of course, there are many times when you might want to hit Ron over the head to make him notice poor Hermione. Watson gives a vulnerable, heartbreaking performance.
Director David Yates, back for round two after helming

Harry Potter and the Order of the Phoenix

(2007), and screenwriter Steve Kloves, returning to the fold after skipping

Phoenix

, perform a delicate balancing act, moving from the series' funniest moments to its most grave.
The sagely Professor Dumbledore (Michael Gambon) has given Harry a most important task. An old colleague, the slightly daft Horace Slughorn (Jim Broadbent), has returned to Hogwarts, and Harry must befriend him to retrieve a very specific—and very crucial—memory of Tom Riddle, the young wizard who became the evil Lord Voldemort.
Half-Blood Prince

is in many ways Dumbledore's show. He's far more active and aggressive than we have seen him in the past, and Gambon sinks his teeth into the role with obvious delight. He's not quite up to Ian McKellan as Gandalf in

The Lord of the Rings

, but he's close.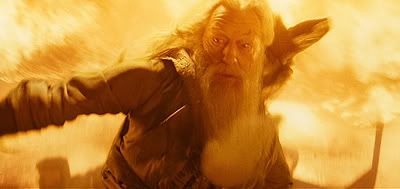 Harry's longtime nemesis, Draco Malfoy (Tom Felton), also has a task to carry out. His comes from Voldemort, and though he is proud of being chosen for something so important, the potential consequences weigh on him as the time draws near. Draco, a one-dimensional bully in the first five films, becomes a fully realized character, a tortured soul, something akin to the wizard world's version of a suicide bomber. Felton allows us to empathize with a character who was always so easy to hate before, both on the page and on the screen.
Lurking about, of course, is Professor Severus Snape (Alan Rickman), now Hogwarts' Defense Against the Dark Arts instructor. He makes an "unbreakable vow" to help Draco carry out his assignment. All the while, Dumbledore continues to place his trust in him. Rickman, each line of dialogue slithering out of his mouth as if he's relishing every syllable, does his best work of the series.
The characters have become so complex, so rich—and the performances to match—that they carry the movie. There is surprisingly little action, but I hardly noticed—or cared. There is plenty happening—many, many balls in the air, and Yates expertly juggles them. The handful of action scenes are extremely well done, handheld camera work adding to the intensity.
The production design—enhanced by new cinematographer Bruno Delbonnel, who desaturates his images so much that some scenes appear almost black and white—and special effects are better than ever, and even more effective for being merely the backdrop for the human drama unfolding.
There is very little, if anything, not to like about this film. Even Quidditch, which usually provides the most uninvolving moments of the movies and books, has gotten an upgrade. It's been transformed from a fanciful child's game to a sort airborne offshoot of rugby.
The biggest change from the book is the omission of the climactic battle at Hogwarts. A bold choice by Yates and Kloves, but it works, placing the focus where it should be, on the momentous event that occurs just prior to it. Besides, the series-ending

Harry Potter and the Deathly Hallows

, split into two movies due out in November 2010 and July 2011, will give you all the action you desire.
Half-Blood Prince

is

Harry Potter

at its most artful, confident and mature.
Grade: A
(Rated PG for scary images, some violence, language and mild sensuality. 153 minutes.)