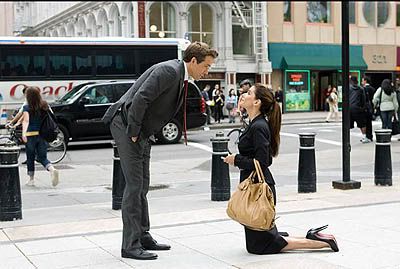 The romantic comedy is perhaps the most formulaic of all movie genres. Boy meets girl. One annoys the other, they bicker constantly and manage to fall in love at the same time. An obstacle presents itself, but they overcome it to live happily ever after.
In
The Proposal
, nothing happens that we don't see coming.
Though aspiring writer/editor Andrew Paxton (Ryan Reynolds) loathes everything about his demanding boss, Margaret Tate (Sandra Bullock), we know—without the slightest doubt—that they will be in love before the credits roll.
The premise that brings them together is one of the more inventive the genre has offered of late.
Margaret, who keeps her employees in such a state of fear that they send each other instant messages reading, "It's here" when she arrives at the workplace and "The witch is on her broom" when she leaves her office, is a Canadian whose U.S. work visa has expired. To avoid deportation, she blackmails her long-suffering assistant, Andrew, into becoming her fiancé.
Immigration officials, though, are hip to her scheme. So to prove they are in fact a legit couple, they spend a weekend with Andrew's family at their Alaskan home, where his Grandma Annie (Betty White) is celebrating her 90th birthday.
The cast goes a long way to help the movie overcome the predictability factor.
Bullock has had a lot success with romantic comedies, but unlike many other actresses who frequently appear in this genre (Meg Ryan comes to mind), she doesn't have one stock character she goes back to over and over again. Her Margaret is positively ruthless, yet the way Andrew and his family gradually help her peal away the layers to reach her vulnerable center feels entirely natural.
Reynolds has shed the smug attitude that so irked me earlier in his career and developed into an engaging performer in this sort of role (see also
Definitely, Maybe
). Watch him when Margaret tells her bosses of the engagement—which is news to him as much as it is to the others in the room. He barely says a word, but the looks on his face are priceless. Really nice work here.
The supporting cast, including the always feisty White and the always likable Mary Steenburgen as Andrew's mother, is more than adequate (though I could have done with seeing a lot less of
The Office
's Oscar Nuñez).
The Proposal
is completely disposable entertainment, though it makes for a pleasant evening or afternoon out for a couple. Just keep your fingers crossed that
Transformers
isn't playing in an adjacent theater—you won't be able to hear a thing if it is.
Grade: B
(Rated PG-13 for sexual content, nudity and language. 108 minutes.)