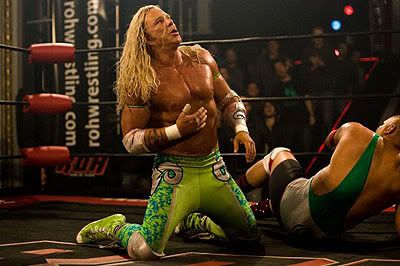 What do you do when one thing is all you know? If you're actor Mickey Rourke or aging pro wrestler Randy "The Ram" Robinson, you keep doing it, even if no one is watching—and, in the Ram's case, even if it means putting your life on the line.
The parallels between actor and character in Darren Aronofsky's "The Wrestler" are uncanny. One ultimately finds redemption; for the other, it's difficult to say.
The enlightened among us will say pro wrestling is "fake." Indeed, much about Randy is fabricated. His bleach-blonde hair? The result of regular dye jobs. His bronzed skin? Tanning beds do the work. His muscles, still bulging two decades past his prime? A virtual smorgasbord of steroids runs through his veins. His real name? Robin Ramzinski.
Aronofsky takes us backstage at the gymnasiums, community centers and banquet halls where Randy, once the industry's biggest star, now plies his trade. This is the reality most wrestlers face; only the lucky few find their way to the bigtime of pay-per-view events and sold-out arenas.
The wrestlers, who share a deep camaraderie, discuss their matches, going over moves and finishes. Though outcomes are predetermined and the performers know their spots, the sweat and blood in the ring is real—even if the blood often comes from the wrestlers cutting themselves with small razorblades. The job is as physically demanding as any I can think of, and it has taken a tremendous toll on Randy's body, which is seemingly held together by tape, tights and elbow pads.
Randy is battered and bruised even more than usual after a brutal match involving barbed wire, glass, thumbtacks, a staple gun and wooden table. The real damage comes afterward, when he collapses in the dressing room, stricken by a heart attack.
Bypass surgery forces Randy out of the ring—specifically, out of a rematch with the Ayatollah (Ernest Miller) in Wilmington, Del., on the 20th anniversary of their legendary contest on a much grander stage.
With his livelihood gone, Randy takes a job behind a deli counter to avoid having his landlord lock him out of his trailer again. At the suggestion of Cassidy (Marisa Tomei), a stripper with whom he is friendly, he tries to reconnect with his estranged daughter, Stephanie (Evan Rachel Wood). He insists he isn't looking for sympathy: "I'm an old, broken-down piece of meat, and I deserve to be all alone. I just don't want you to hate me."
But sympathy is exactly what Randy earns from us. Other wrestlers respect him both for what he accomplished in the past and the dedicated performer he still is today. The rooms in which he now entertains are small, but he commands them and the audience's affection like no other. He dreads his first day at the deli, yet his friendly nature quickly takes over as he laughs, jokes and flirts with customers.
Randy has made mistakes and burned bridges. There is no mention of Stephanie's mother, but we can assume he parted ways with her long ago, probably in less than amicable fashion. Though he has made his life in a "fake" world, he is unable to recognize that Cassidy has done much the same. Cassidy is not her real name. Like Randy, she's a little long in the tooth for her profession. She has a son. Their friendship is genuine, but he doesn't quite understand why she refuses to take the relationship further.
"The Wrestler" is a character study and actor's showcase—and like nothing Aronofsky has done previously. Gone is the hyper-stylization of "Requiem for a Dream" (2000) or "The Fountain" (2006), replaced by an immediate, handheld camera. Cinematographer Maryse Alberti has been shooting documentaries of late (including last year's Oscar-winner "Taxi to the Dark Side") and she infuses "The Wrestler" with a similar aesthetic. She often employs a "fly on the wall" approach, allowing her camera to simply follow Rourke as he navigates his way through the movie. That style, combined with her 16 mm film stock, Clint Mansell's spare musical score and the extreme attention to detail when it comes to the wrestling, creates an air of gritty authenticity.
This is a rare case of everyone behind the camera doing everything they can to turn attention away from themselves and onto the actors, though Rourke would command it regardless. The role of Randy was not written specifically for him (Nicolas Cage was in the running at one point), though it is hard to imagine anyone else embodying him and his story so well. He rocketed to stardom in the 1980s, then saw his career tank just as quickly. He turned to boxing in the early '90s and continued to act, though the movies, aside from a pair with Robert Rodriguez ("Once Upon a Time in Mexico" and "Sin City"), were forgettable.
Rourke's performance in "The Wrestler" is the equivalent of him baring his soul for all the world to see. I don't know if I've ever seen an actor more honest and vulnerable on screen.
Grade: A
(Rated R for violence, sexuality/nudity, language and some drug use. 115 minutes.)